For demanding industrial applications where reliability and robustness are critical, Honeywell offers a wide range of pressure transducers. Honeywell pressure sensors are used in aerospace, medical devices, transportation and agriculture. A wide range of pressure ranges, connection variants, signal types, styles and pressure ranges, from 3 psi to 8000 psi are available.
For quick orientation, here is an overview of the most commonly used Honeywell Heavy Duty pressure sensors.
SPT Series
The SPT stainless steel pressure sensors are designed for use with hostile media and in harsh environments.
The sensors are calibrated and compensated. Three output signal variants are available:
4.0 mA to 20.0 mA (mA version)
1.0 Vdc to 5.0 Vdc (4 V version)
0 mV to 100 mV (mV version)
All versions have a variety of pressure connections for use in a wide range of OEM equipment. The stainless steel SPT series are rugged and reliable transmitters for use with corrosive liquids and gases.
MLH Series
The MLH series pressure sensors combine ASIC (Application Specific Integrated Circuit) technology with a media-separated metal diaphragm design. This digitally compensated sensor offers stability, accuracy and cost efficiency, making it the ideal pressure measurement solution for demanding applications. Fully temperature compensated, calibrated and amplified, the MLH is available in pressure ranges from 50 psi to 8,000 psi. The MLH sensors provide an accuracy of ±0.25% (BFSL) and a total error of 2% over a temperature range of -40°C to 125°C [-40°F to 257°F]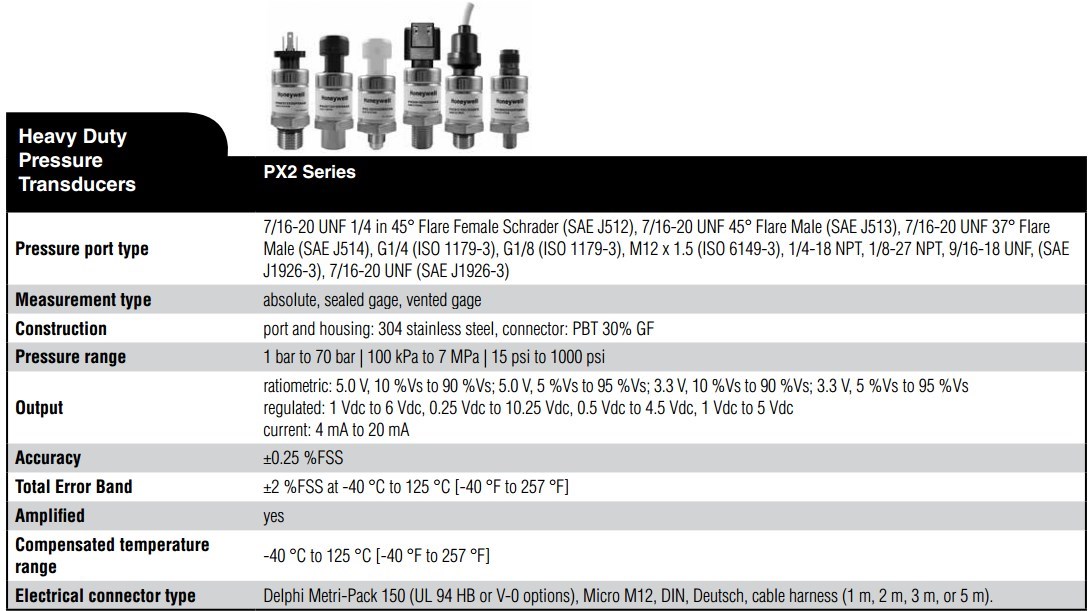 PX2 Series
is a portfolio of highly configurable pressure sensors using piezoresistive sensor technology with ASIC (Application Specific Integrated Circuit) signal conditioning in a stainless steel housing. The PX2 series is fully calibrated and compensates for offset, sensitivity, temperature effects and non-linearity with the on-board ASIC. This results in a total error band of ± 2% over the operating temperature range of -40°C to 125°C [-40°F to 257°F]. With thousands of possible configurations, the PX2 series is almost universally applicable. New variants are constantly being introduced to the market.
The PX2 Series is available in three pressure ranges:
1 bar to 70 bar
100 kPa to 7 MPa
15 psi to 1000 psi
All PX2 sensors are RoHS compliant and manufactured to ISO 9001 standard.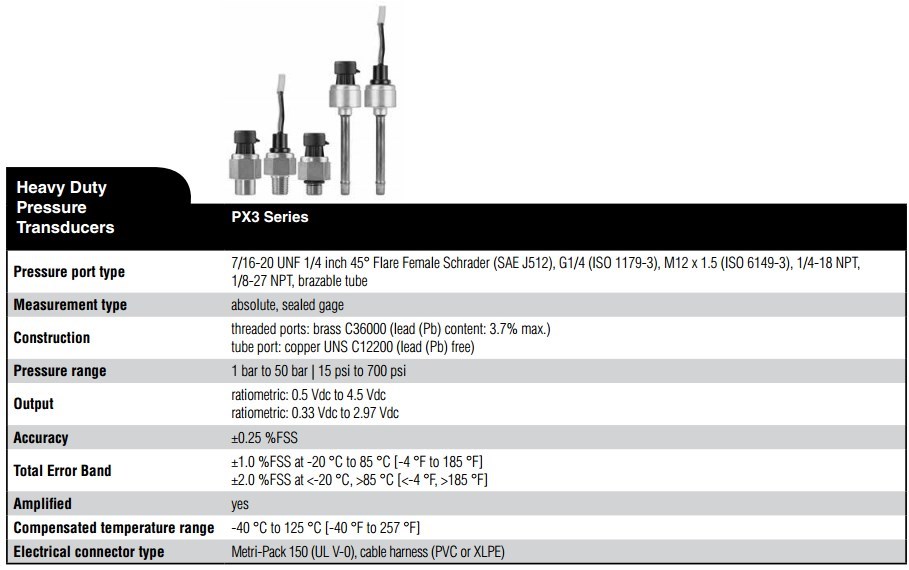 PX3 Series Heavy Duty Pressure Transducers
Piezoresistive sensing technology with ASIC (Application Specific Integrated Circuit), signal conditioning in a brass housing. The PX3 series is fully calibrated and temperature compensated from -40°C to 125°C [-40°F to 257°F].
Two pressure ranges are available:
1 bar to 50 bar
15 psi to 700 psi
Highlights:
Total Error Band (TEB) (±1.0 %FSS typ.)
low current consumption of max. 3.5 mA
high EMV immunity: works reliably in the presence of electromagnetic fields
such as short-wave signals, RF communications and electrical devices.